Wil je snel zichtbaarheid voor je producten of diensten en wil je meer en vooral ook de juiste klanten naar je website halen? Dan kunnen Google Advertenties een goede investering zijn.
Met zoekmachineadverteren (Search Engine Advertising of SEA) presenteer je je advertenties aan mensen die gericht op zoek zijn naar de producten en diensten die jij aanbiedt.
In dit artikel vatten we de voordelen en de nadelen van Google advertenties voor je samen.
Adverteren op Google
Wat zijn Google Ads?
Zoekmachineadverteren – ook wel 'Search Engine Advertising' of SEA – is een vorm van reclame waarbij je je website, producten en diensten met betaalde advertenties in de resultaten van online zoekmachines promoot.
Google is nog steeds veruit de meest populaire zoekmachine ter wereld. Daarom concentreren we ons in dit artikel op de voordelen en de nadelen van Google Adwords.
Hoe werkt adverteren op Google?
Als mensen via Google informatie zoeken dan toont Google boven en rechts naast de zoekresultaten relevante advertenties op basis van de zoekwoorden die gebruikers ingeven (zie afbeelding hieronder).
Mensen die op jouw advertentie doorklikken landen op je website of landingspagina. Als adverteerder betaal je alleen wanneer mensen daadwerkelijk op je advertentie klikken.
Als je je advertenties rond de juiste zoekwoorden opmaakt dan toont Google ze gericht aan jouw doelpubliek.
Hoe beter je je advertentie afstemt op je doelpubliek en op de inhoud van de landingspagina op je website, hoe minder je advertentie zal kosten en hoe beter je resultaten zullen zijn.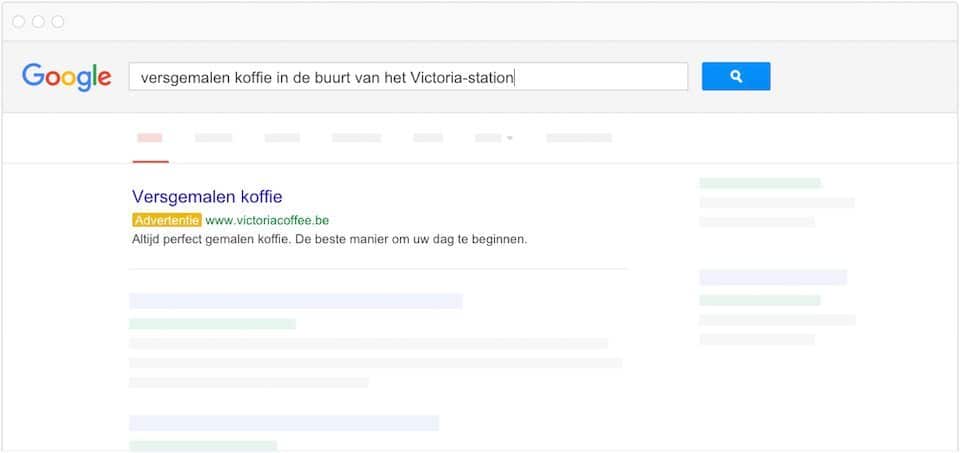 Voordelen van adverteren op Google
GOOGLE ADVERTENTIES HEBBEN EEN GROOT BEREIK
Het Google Netwerk bereikt wereldwijd 90% van alle internetgebruikers. Google biedt dus een enorm groot potentieel bereik voor je advertenties. Het Google Netwerk bestaat uit 2 grote delen:
Het Google zoeknetwerk: hiertoe behoort google.com, google.be, google.fr en alle andere geografische varianten van google.com, andere Google-sites zoals Google Maps en Google Shopping en overige zoeksites die de zoektechnologie van Google gebruiken.
Het Google Display Netwerk: Google-sites zoals YouTube, Blogger en Gmail, plus duizenden partnersites op internet.
DE JUISTE PERSOON, DE JUISTE PLAATS, HET JUISTE MOMENT
Via Google toon je relevante advertenties aan mensen die actief op zoek zijn naar jouw informatie, producten en diensten. Deze mensen staan hierdoor dichter bij een aankoop dan bijvoorbeeld Facebook-gebruikers die niet gericht op zoek zijn maar wel je Facebook advertenties te zien krijgen.
GOOGLE HELPT JE MET DYNAMISCHE ADVERTENTIES
Google biedt ook dynamische zoekadvertenties aan. Dynamische zoekadvertenties worden automatisch getoond bij relevante zoekopdrachten op basis van de inhoud van je website.
Daardoor hoef je je geen zorgen te maken over zoekwoorden of bestemmingspagina's en kun je makkelijk gaten in je handmatige campagnes opvullen.
Google kan het 'moeilijke' werk (het optimaliseren van je advertenties) dus voor je doen. Wij raden echter aan om niet enkel op dynamische advertenties te vertrouwen. Goede handmatig geoptimaliseerde advertenties doen het vrijwel altijd beter dan dynamische advertenties.
GOOGLE ADWORDS IS PERFECT VOOR REMARKETING
Net als bij Facebook kun je ook via Adwords aan remarketing doen op Google Search en het Display network: je toont je advertentie aan mensen die eerder al interesse toonden in je producten of diensten. Zo houd je de aandacht vast van mensen die wellicht dicht bij een aankoop staan.
GOOGLE ADWORDS IS EEN KRACHTIG EN DYNAMISCH PLATFORM
Google is een krachtig en dynamisch platform om te adverteren en biedt enorm veel opties om je advertenties en uitgaven te optimaliseren.
Als je Google Adwords en Google Analytics koppelt dan heb je ook een ijzersterke combinatie in handen om verkeer en conversies op (de landingspagina's van) je website te meten en je website en advertenties vervolgens te optimaliseren.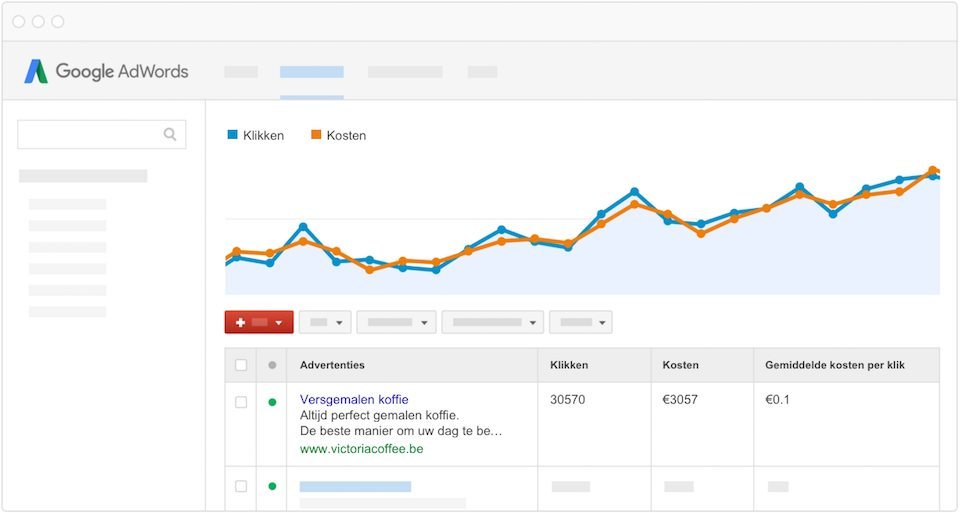 Wat zijn de nadelen van adverteren op Google?
GOOGLE ADWORDS IS COMPLEX
Google Adwords heeft een steile leercurve: het is niet zo'n eenvoudig platform om advertenties op te stellen en te beheren.
Als je niet weet wat je doet en slechte ads of slecht afgestemde landingspagina's maakt dan kun je ook makkelijk veel geld verspillen aan je advertenties.
TARGETING MET BEPERKINGEN
Google kent zijn gebruikers niet zo goed als Facebook. Dankzij de persoonlijke Facebookprofielen van gebruikers weet Facebook immers wie je bent, waar je woont, wat je interesses zijn, enz.
Google weet voornamelijk waar mensen naar op zoek zijn en veel minder wie ze zijn of wat hen interesseert. Daardoor is het moeilijker om via Google mensen te bereiken die je producten niet kennen en er ook niet actief naar zoeken.
Wanneer adverteer je op Google?
Google advertenties zijn ideaal om mensen te bereiken
die een goed beeld hebben van wat ze zoeken
die actief op zoek zijn naar jouw oplossingen en informatie
die een duidelijke / verhoogde koopintentie hebben
Je bereikt die mensen op het juiste moment met de juiste informatie, oplossing, producten of diensten. Zo stimuleer je de zichtbaarheid, naamsbekendheid én de verkoop en de groei van je bedrijf.
Bron van de schermafbeeldingen op deze pagina: Google Adwords
Wil je aan de slag met Google Ads?
Wil je aan de slag met Search Engine Advertising of SEA voor je bedrijf? Contacteer ons voor meer informatie, we helpen je graag verder.