Dus ik zit in Frankrijk. Stralende zon, meer dan dertig graden, leuk terras. Tijd voor een biertje. En weet je, laat ik eens gek doen. Ik neem een Desperados. Je weet wel: het 'Tequila-flavored' bier met het leuke flesje en de zoete smaak van het Wilde Westen, of van Mexico, of van… tja van waar eigenlijk?
Desperados, het bier uit…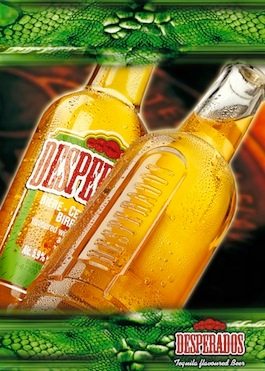 Frankrijk! Desperados komt uit Frankrijk! Noem me naïef of noem me vooral een fan van de betere streekbieren, maar tot op heden wist ik niet dat Desperados uit Frankrijk kwam. Het land van wijn, van champagne, van kaas en van veel te lange files richting zuiden… maar toch niet van Desperados?
En het wordt nog sterker. Want Desperados is al sinds 1996 in handen van… Heineken! Je weet wel, het bier dat vaak bespottelijk 'kraantjeswater' wordt genoemd, en dat in de rest van de wereld veel te duur verkocht wordt. Desperados komt dus uit Frankrijk, en het is al sinds 1996 in Nederlandse handen.
Groeten uit Brabant!
En wat blijkt nu: omdat de vraag naar Desperados te groot wordt is de productie in april uitgebreid van Parijs naar… Den Bosch. In Nederland! Vanaf nu zal Nederland elk jaar 40 miljoen liter Desperados brouwen. Voor de export. En met het vertrouwde Tequila aroma en de gekende stoere marketing uiteraard!
Desperados, Tequila-flavored marketing
De stoere merknaam, het typische lettertype, het flesje met reliëfprint, de Tequila smaak en de marketing met stoere Mexicanen, cowgirls, zwepen en cactussen. En dat alles voor een zoet biertje uit Frankrijk dat nu ook in Nederland gebrouwen wordt. Very well done mensen, maar mijn Desperados zal nooit meer hetzelfde smaken.
Een dubbel gevoel
Ik zit nu met een dubbel gevoel. Enerzijds van ontnuchtering, anderzijds van respect. Er is bij mij immers een illusie doorprikt. Desperados is niet langer een exotisch, stoer bier. Desperados is vanaf nu een zoet Frans biertje uit Nederland. Maar ik zit er niet mee.
Want wat heeft Desperados haar marketing goed voor elkaar! Desperados is voor mij het perfecte voorbeeld van een merk dat geen product (bier) maar een gevoel (van vrijheid) verkoopt. Een lekker gevoel. En dat doen ze goed. Heel goed. Respect daarvoor!
Marketingplan op maat van je bedrijf?
Wil je een strategisch marketingplan vol waardevolle informatie, praktisch advies en actiepunten voor je bedrijf? Contacteer ons dan nu voor een marketingplan op maat van je bedrijf!