Steeds meer mensen gebruiken zoekmachines om lokale informatie op te zoeken over bedrijven. Als bedrijf is het dan ook belangrijk om zichtbaar te zijn in de zoekresultaten.
Daarom introduceert Google 'Google Posts' voor lokale bedrijven. Vanaf nu kunt u rechtstreeks bedrijfsupdates delen in Google Search en Google Maps. Handig, toch?
Hieronder leest u:
wat Google Posts precies zijn
hoe u Google Posts maakt voor uw bedrijf
Vámonos!
Wat zijn Google Posts?
'Google Posts' zijn relevante bedrijfsupdates die rechtstreeks in de zoekresultaten van Google en in Google Maps verschijnen wanneer mensen uw bedrijf opzoeken. Handig!
Google posts helpen u om:
uw zichtbaarheid in Google te vergroten
nieuwe klanten aan te trekken
en een relatie uit te bouwen met bestaande klanten
Via Google Posts kunt u:
dagelijkse specials of actuele promoties delen voor nieuwe en bestaande gebruikers
evenementen die u in de nabije toekomst organiseert promoten
uw topproducten tonen en nieuwe producten in de kijker plaatsen
een passende Call-To-Action kiezen om uw doelpubliek aan te sporen om te reserveren, in te schrijven op uw nieuwsbrief, meer te lezen over uw huidige aanbiedingen of een specifiek product aan te kopen
Hieronder ziet u een voorbeeld van onze Google Posts over een actuele vacature en over onze Facebook training (rechts onderaan) :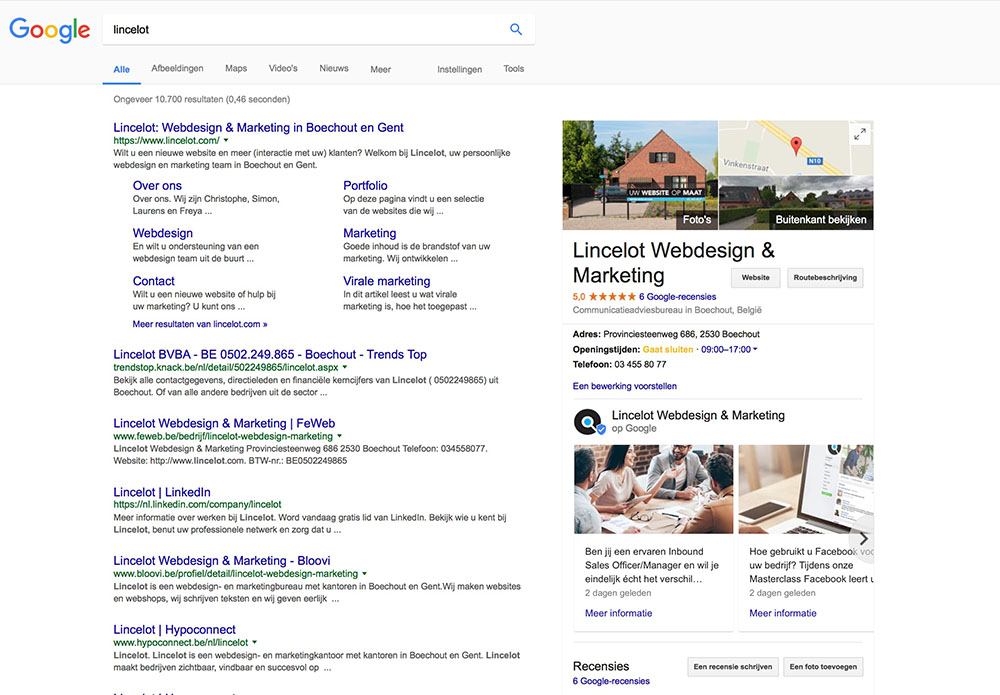 Hoe maakt u Google Posts voor uw bedrijf?
Google Posts zijn een onderdeel van Google Mijn Bedrijf, een gratis dienst van Google waarmee u de vermelding van uw bedrijf, product, merk of organisatie in de diensten van Google op één centrale plaats kunt beheren.
Om 'Google Posts' te delen, heeft u dan ook een 'Google Mijn Bedrijf'-account nodig. Nog geen account? Hier leest u hoe u zich aanmeldt bij Google Mijn Bedrijf.
Account aangemaakt? Mooi zo. Volg deze stappen om uw eerste post te publiceren in de zoekresultaten en in Google Maps:
1. Log in bij Google My Business
2. Klik links in het menu op 'Posts'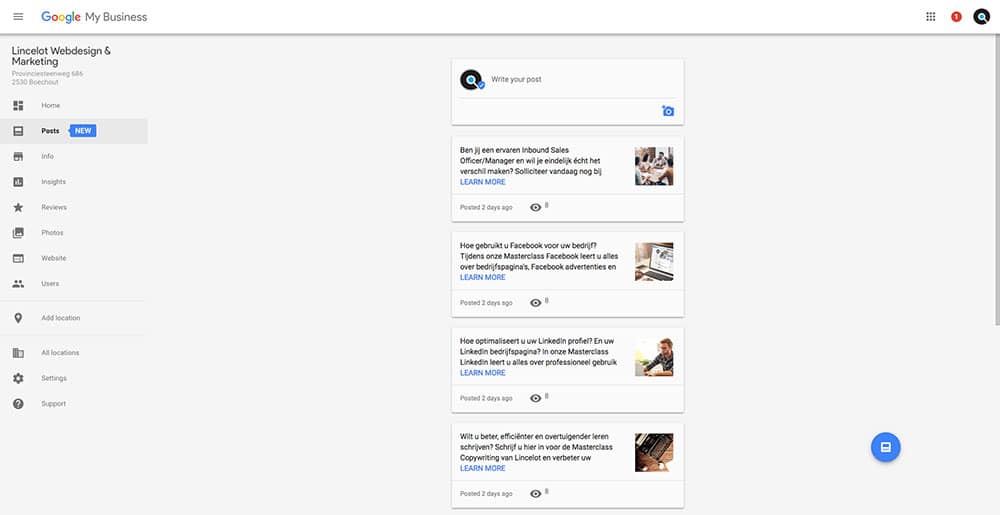 3. Klik op "Write your post"
4. Klik op het camera-icoontje om een foto toe te voegen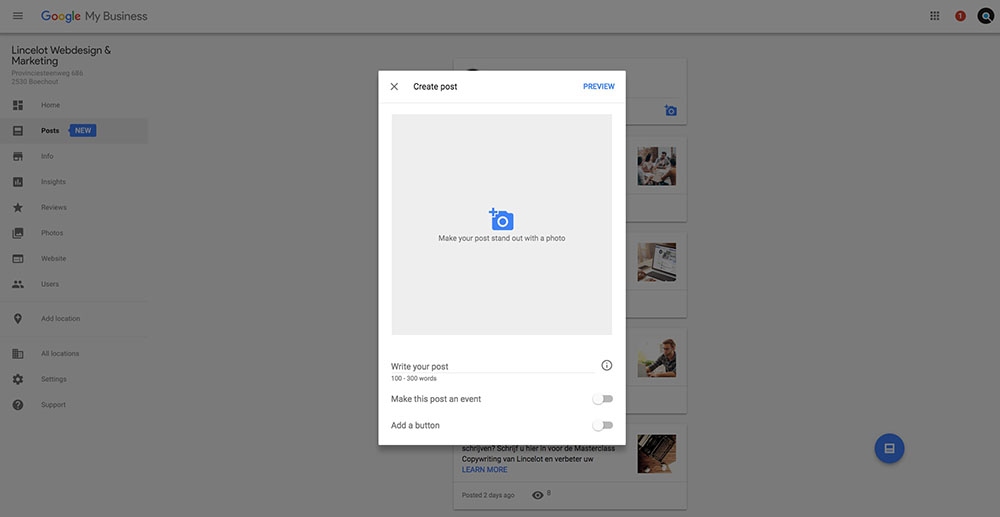 5. Klik op "Write your post" om een kort tekstje toe te voegen (100-300 woorden)
6. Optioneel: klik op "Make this post an event" als u een bedrijfsevent wilt promoten en vul de 'Event title' en de gevraagde data in
7. Klik op 'Add a button' om een Call-To-Action toe te voegen
8. Geef de link van de pagina in waarnaar u mensen wilt verwijzen
9. Klik op 'Preview' om een voorbeeld van uw Google Post te bekijken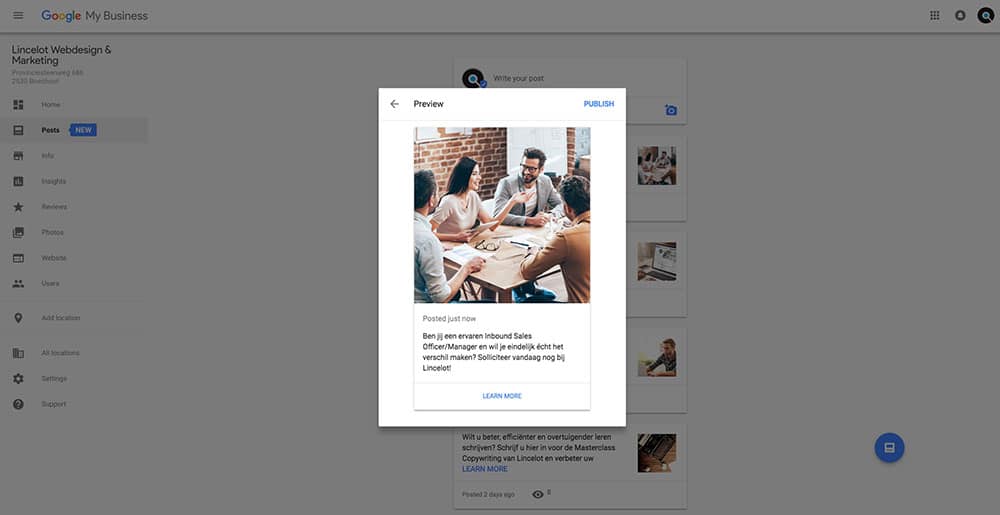 10. Klik op 'Publish' om uw Google Post te publiceren
Tip: Wij raden aan om al-tijd een call-to-action toe te voegen. Stimuleer uw bezoekers om uw website te verkennen! U heeft momenteel de keuze uit 5 calls-to-action:
'Learn more'
'Reserve'
'Sign up'
'Buy'
'Get offer'
Na publicatie verschijnt uw post bijna meteen in de zoekresultaten. Let op: alle posts – met uitzondering van events – verdwijnen weer na 7 dagen.
Google wil dus echt dat u enkel nieuws, relevante updates en actuele info deelt. De event posts verdwijnen pas nadat het evenement heeft plaatsgevonden.
Google Posts bewerken en opvolgen
Foutje getypt of foute link gepost? Geen probleem. Uw kunt uw posts achteraf steeds aanpassen via deze stappen:
1. Log in bij Google My Business
2. Klik links in het menu op 'Posts'
3. Klik op de post die u wenst aan te passen
4. Klik op 'Edit' en pas de nodige info aan
5. Klik op 'Preview'
6. Klik op 'Publish'
Klaar!
In uw overzicht met posts krijgt u ook per post het aantal weergaven in de zoekresultaten (cijfer naast het oog-icoontje).
Als u op een specifieke Google Post klikt dan krijgt u het aantal views en engagement of clicks te zien voor die post in de zoekresultaten en in Google Maps. Op die manier kunt u zien welke content uw doelpubliek het meest interesseert of aanspoort tot actie!
Wil je meer te weten komen rond Google Posts?
Wil je het succes van je bedrijf vergoten met Google Posts? Lincelot helpt je hier graag mee verder. Contacteer ons voor meer informatie!