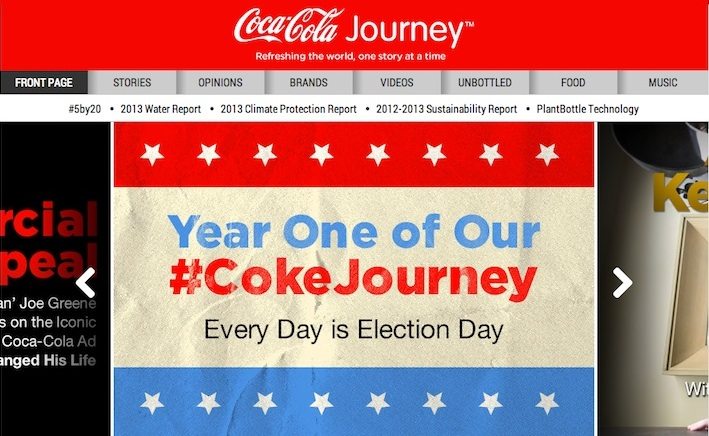 25 Nov

Coca-Cola: Refreshing the world, one story at a time

Two weeks ago, Coca-Cola launched a new website. Or perhaps we should say 'a new digital magazine', because the new site looks more like a contemporary news site than a standard website. This was a conscious decision because, according to Coca-Cola, "Content is King and the Corporate Website is dead."
From standard website to the 'Coca-Cola Journey'
In designing their new site, Coca-Cola deliberately departed from the standard design for a corporate website. Instead, coca-colacompany.com now features an interactive digital magazine: the Coca-Cola Journey.
The Coca-Cola Journey is full of interesting stories, pictures, videos, games, opinion pieces and music. The focus is not so much on Coca-Cola products, but rather on the content of the magazine and the customer experience. The Coca-Cola Journey seems designed to attract visitors, and to get them to engage with Coca-Cola brands by means of entertaining content.
Refreshing the world, one story at a time
In a recent article, Ashley Brown, Coca-Cola's Group Director of Digital Communications and Social Media, explains why Coca-Cola have shifted all of their attention to storytelling and content marketing since 2012.
"A year ago, Coca-Cola made a big bet that storytelling is the cornerstone of 21st century communications", says Brown. Then they started the Coca-Cola Unbottled blog. Why? "We were missing a connection to you. Even in this social age, our communications still felt very one way."
The Unbottled blog was "the latest (but not the last) step in Coca-Cola's commitment to tell meaningful stories that will not only inform and engage you, but also keep you coming back for more." Over the last year, Coca-Cola has been feeding, analyzing and improving its blog.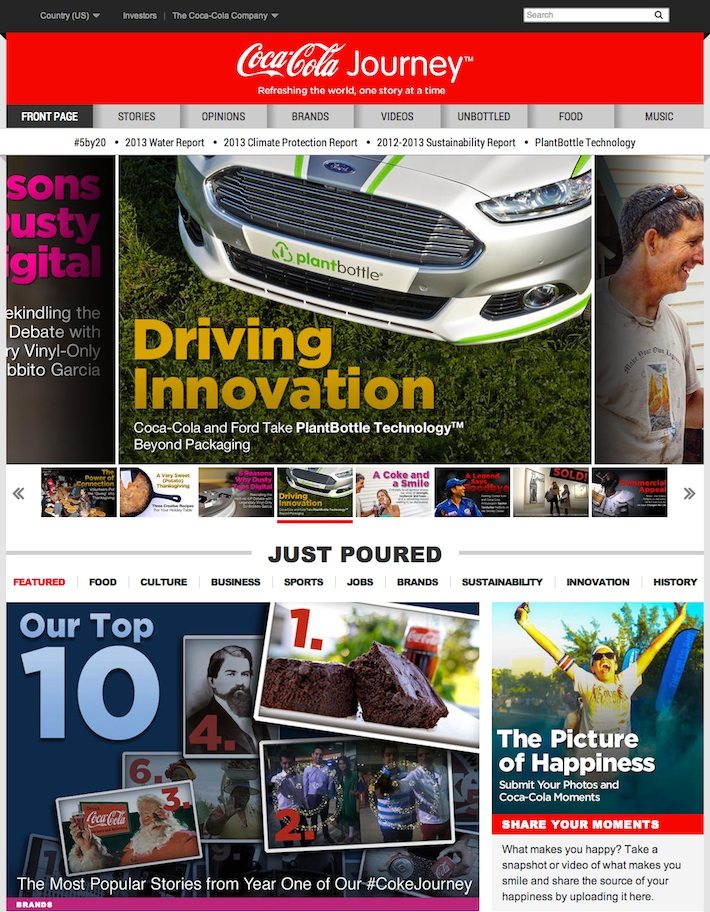 In search of the perfect story
Their analysis of the site yielded interesting insights. Brown says "The stories our readers loved surprised us month after month, and the stories we thought they would love fell flat."
Based on these data, 2013 saw Coca-Cola adding a food channel, a music channel, a jobs filter, greater social inclusion and a new look for the Unbottled blog. This resulted in 106% more page views on the blog and as much as 1,247% more visits to the blog homepage.
"We let the data guide us and inform our content decisions," says Brown. Now, Coca-Cola focus more on interesting, funny, smart and Coke-related stories. Behind-the-scenes stories about Coke's history, innovations, careers and marketing campaigns do particularly well.
The perfect story never goes flat
Coca-Cola now writes stories based on what readers want. Or, as Brown puts it, "With KPIs focused on engagement, the new newsroom meant publishing content based on what readers want to read. Today, fans tell the company when to communicate, not the other way around."
The reason? "For consumers, the corporate website is dead and 'press Release PR' is on its way out." Coca-Cola realize that "Every day you have a choice of what to read and what to drink. Every day is election day, and our team will be here – working hard to get your vote."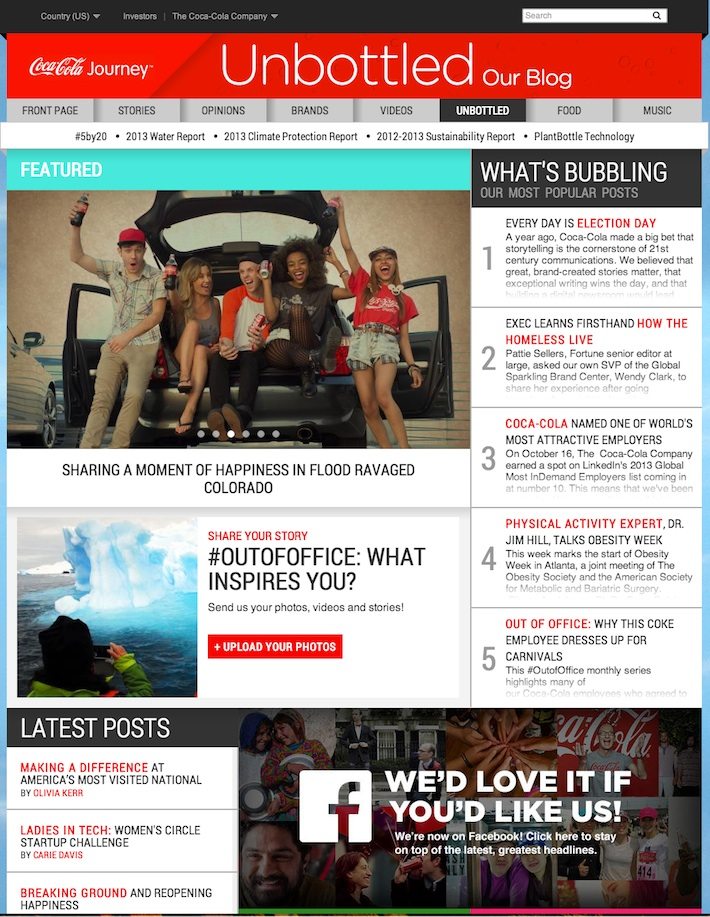 What we can learn from Coca-Cola?
By creating a 'digital newsroom' and repositioning their corporate website, Coca-Cola sent a clear message from which entrepreneurs and businesses can take valuable lessons:
One-way communication will die a quiet death. It no longer fits a world of social media and customer interaction.
Focus your communication not (only) on your products and your services, but (especially) on what your visitors/customers want to read, see and share. Statistics don't lie, and careful data analysis is a recipe for success.
A good slogan catches the eye, but a good story is passed on. Storytelling is as old as humanity itself. Why would we stop using it now?
Be transparent and authentic. Coca-Cola know that behind-the-scenes and feel-good stories work. Same goes for an informal style of writing. Everyday language. That's what readers like.
Take your customers seriously and yourself not too much. Coca-Cola Zero's 'Sweater Generator' is a fine example of a fun game. Their take? "Thanks to Coke Zero, you can score a hilariously hideous sweater this holiday season without having to hit your local thrift store or raid grandma's closet." Check it out: Here you design your 'hilariously hideous' sweater until 1 December.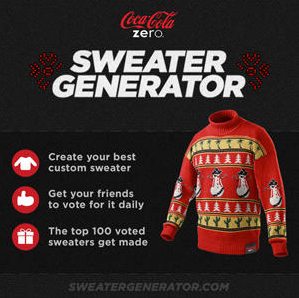 How can you use this as an entrepreneur in a small or medium-sized business?
Should you copy Coca-Cola and set up your own digital news team, transform your entire website, write stories every day, make videos and entertain your visitors?
Of course not. For most entrepreneurs and businesses this is not feasible (yet). Coca-Cola's strategy costs a lot of time and money. And you need the right people to run it.
Moreover, everyone knows Coca-Cola products. These are simple, familiar and popular brands. So Coca-Cola does not need to sell itself. If you still need to position your products in the market, you can't base your strategy on product-related campaigns or stories.
But …
If you keep the lessons above in mind, you have the edge over most competitors. Listen to your customers, engage them and plan your communications and marketing strategy carefully.
With little extra time or financial expense, you can gain a lot of attention and sympathy. And while attention and sympathy might not pay the bills, the business it attracts certainly will.
What about you?
I would like to hear what you think about the Coca-Cola Journey. And what you think about content marketing, storytelling, and the feasibility of using it in your own company. What are the options? What are the obstacles? I would like to read your comment via the contact form at the bottom of this page.