E-mail marketing automation is een ideale manier om potentiële klanten te binden aan uw bedrijf en bestaande klanten te engageren of op te volgen.
Helaas investeren veel bedrijven niet of onvoldoende in e-mail marketing en e-mail marketing automation: ze verzamelen wel e-mailgegevens van hun oude, huidige en potentiële klanten, maar doen er verder niets mee.
Dat is een gemiste kans. Bedrijven die marketing automation implementeren zien hun verkoop immers gemiddeld met 10% stijgen. Wilt u aan de slag met e-mail marketing automation? Hieronder vertellen we u:
wat e-mail marketing automation is,
hoe e-mail marketing automation werkt,
en delen we 10 beproefde voorbeelden van e-mail marketing automation.
Succes!
Wat is e-mail marketing automation?
Via e-mail marketing automation automatiseert u e-mailprocessen waarmee u de juiste mensen de juiste content op het juiste moment aanbiedt. Zo elimineert u repetitieve taken, verhoogt u uw efficiëntie en kunt u zich bezighouden met andere zaken.
U kunt e-mail marketing automation inrichten om mensen te begroeten, producten aan te bevelen, uw bedrijf terug top-of-mind te maken, verjaardagswensen toe te sturen, enz.
E-mail marketing automation is bijzonder flexibel. Alle bedrijven kunnen er gebruik van maken voor zeer diverse situaties en scenario's!
Hoe werkt e-mail marketing automation?
Bij e-mail marketing automation stelt u eerst bepaalde criteria of triggers in. Als een potentiële klant voldoet aan die criteria of een specifieke actie of trigger uitvoert dan gaat er een geautomatiseerd proces van start.
Als een klant bijvoorbeeld verjaart (trigger), dan kunt u hem of haar een vooropgestelde e-mail sturen met uw beste wensen en een kortingscode (automatisering).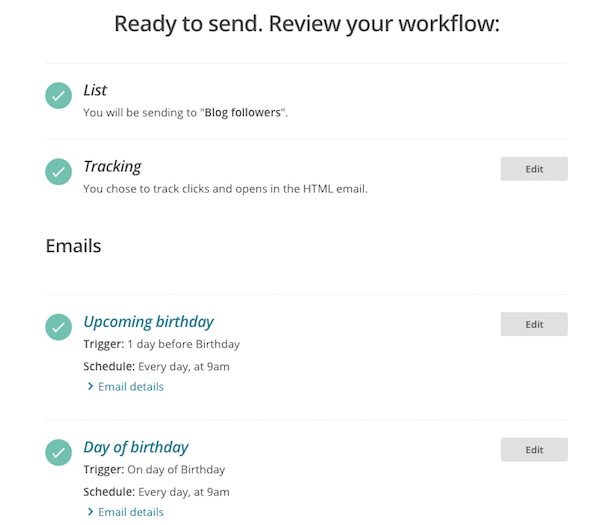 Er zijn diverse soorten automatiseringen en triggers. Bovendien zijn er verschillende e-mail automation tools op de markt, waaronder MailChimp (zie bovenstaande foto's) en HubSpot.
Ontdek hier hoe u e-mail marketing automation workflows opzet in MailChimp.
10 voorbeelden van e-mail marketing automation voor uw bedrijf
Maak een goede eerste indruk
E-mail automation is een eenvoudige en efficiënte manier om een goede eerste indruk te maken. Bereik uw nieuwste abonnées of klanten. Engageer ze, zorg ervoor dat ze terugkomen en onderhoud duurzame relaties.
1. Stel uzelf voor
Verwelkom nieuwe abonnées of klanten met een leuke introductiemail. Help hen om uw bedrijf, organisatie en producten te leren kennen.
2. Wens uw klanten een gelukkige verjaardag
Laat uw klanten weten dat u aan hen denkt op hun verjaardag. Maak een automatisering die jaarlijks herhaalt. En waarom geen cadeau geven in de vorm van een korting of freebie? Altijd leuk!
3. Stuur nieuwe abonnées of klanten een educatieve of nuttige e-mailreeks
Bied nieuwe abonnées en klanten relevante en nuttige bronnen en/of tools die betrekking hebben op hun problemen of vragen en gerelateerd zijn aan uw producten of diensten.
Download iemand uw e-book? Stuur die persoon dan interessante aanvullende content over dat topic via e-mail of via een reeks e-mails.
Verkoop meer
U kunt de aankoopgegevens van uw webshop gebruiken om e-mail automatiseringen in te richten die het makkelijker maken om te communiceren met klanten en hen op te volgen. Op die manier bindt u mensen aan uw bedrijf en zorgt u hopelijk voor meer verkoop.
4. Beman verlaten winkelkarretjes
Bereik klanten die hun winkelkarretje verlaten tijdens het shoppen zonder aankoop. Stuur hen een mail of een reeks mails om hen eraan te herinneren wat ze laten liggen en moedig hen aan om terug te keren naar uw online shop.
U kunt zelfs gepersonaliseerde productaanbevelingen inrichten om uw klanten nog meer opties te bieden om uw conversies of aankopen een boost te geven.
5. Volg aankopen op
Vraag na een aankoop om productfeedback, verstuur een korte enquête of bied klanten nuttige info aan, bijvoorbeeld over het gebruik of onderhoud van het product dat ze aankochten.
6. Haal alles uit productorders en bevestigingen
Stuur uw klanten automatisch een invoice, verzendbevestiging en andere dienstmeldingen. Daarbij kunt u klanten ook bedanken voor hun aankoop of een reeks gerelateerde producten tonen.
Stimuleer klantloyaliteit
Trouwe klanten zijn essentieel voor de groei en het succes van uw bedrijf. Het is dan ook belangrijk om te laten merken dat u hen waardeert. Bovendien is het makkelijker om trouwe klanten te behouden dan nieuwe klanten aan te trekken.
7. Bedank nieuwe klanten
Benader nieuwe klanten die net hun eerste aankoop op uw website hebben gedaan en bedank hen of bied hen een korting aan om toekomstige aankopen aan te moedigen.
8. Beloon uw trouwste klanten
Toon extra waardering voor uw trouwste / grootste / beste klanten door hen een speciale aanbieding, coupon of download aan te bieden.
Haal mensen terug naar uw website
E-mail automation is bijzonder handig om mensen waar u al een tijdje niets van gehoord heeft opnieuw te engageren.
9. Volg verwaterde contacten op
Maak een e-mail(reeks) om klanten die al even niets meer hebben gekocht opnieuw warm te maken voor uw producten of diensten. Toon uw laatste producten aan bestaande klanten of bied nieuwe abonnées die nog geen aankoop deden een incentive.
10. Verbeter het engagement van uw e-mails
Benader abonnées die uw mails niet openen of niet doorklikken opnieuw, plaats ze in een nieuw of ander klantsegment of verwijder ze uit uw mailinglijst om uw doelgroep relevant te houden.
Wil je aan de slag met MailChimp?
Wil je succesvolle e-mail campagnes opstellen met MailChimp of heb je nog verdere vragen over e-mail marketing automation? Je kan ons altijd vrijblijvend contacteren!